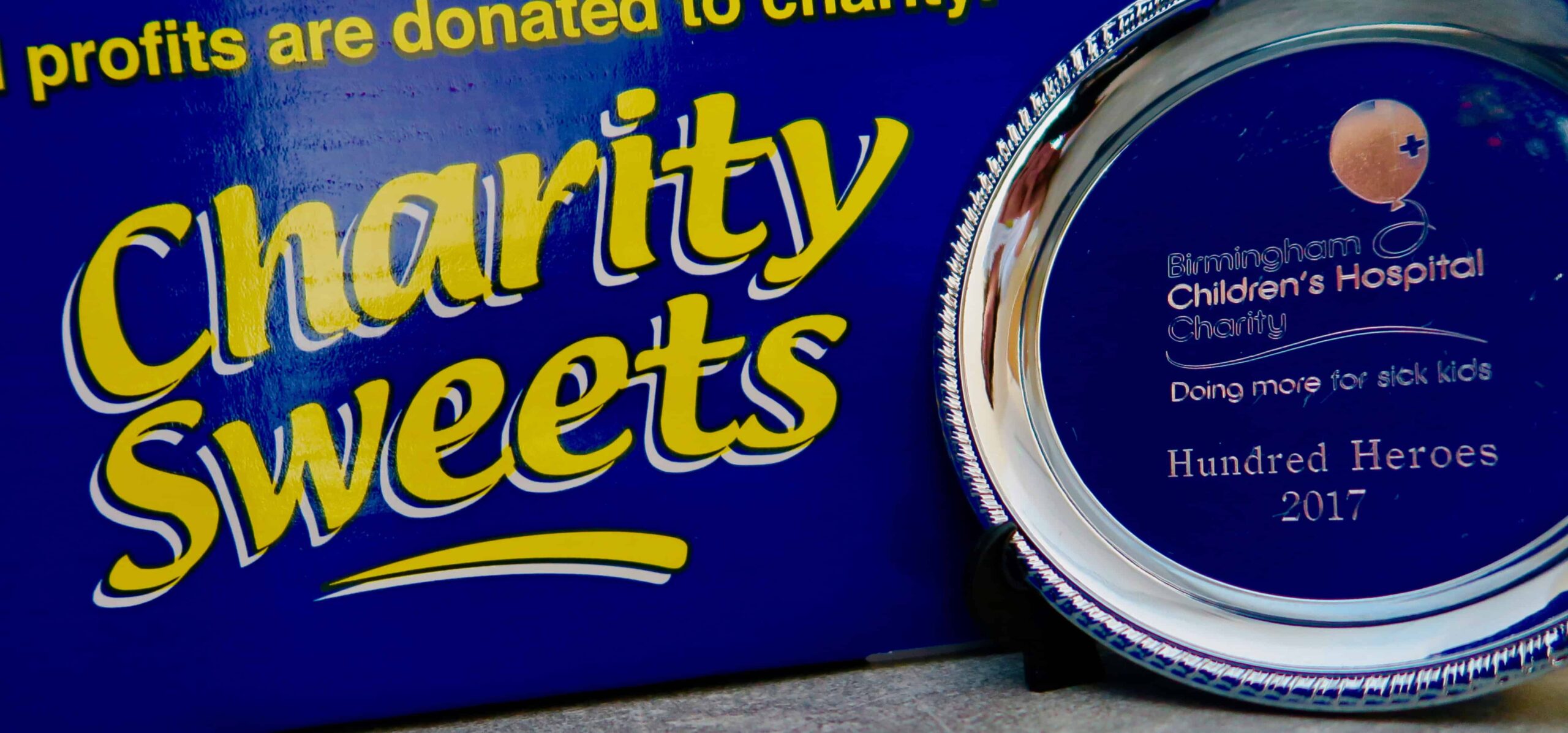 This year we are chuffed to bits to have been nominated and awarded by
 Birmingham Children's Hospital and Charity '100 Heroes' for 2017.
We are delighted and proud to be supporters of such an outstanding hospital and charity, thank you from all of us at Sweet Causes Ltd, it makes it all worthwhile. 
For the year 2016/2017 Birmingham Children's Hospital and Charity have reached a staggering £7,000,000? yes, seven million pounds! can you believe it?
A red balloon will be displayed in the hospital reception area, which is known as the 'Balloon Corridor' for the next twelve months, each special red balloon represents a tribute or contribution by a person or company who have supported or helped Birmingham Children's Hospital and Charity succeed in their annual fundraising total. 
The award was presented by the lovely Sarah-Jane-Marsh, Chief Executive Birmingham Women's and Children's NHS Foundation Trust, who never stops smiling by the way. The program citation read: 'Bob and Sue are the owners of Charity Sweets, which has raised over £500,000 for good causes since 2001. They supported the 'Big Hoot, 2015, and acquired 'Owlfred' the owl, who now resides very happily at the Symphony Hall.  This year they have very generously supported our Star Appeal'. 
 https://www.bch.org.uk/?q=money
Sitting outside the Birmingham Children's Hospital Grade Two Listed Chapel, shows us all how resilient little ones can be when faced with illness or grief.
Here are some of the reasons we and many others like us support Birmingham Children's Hospital and Charity and what makes it such a special place.  
 http://www.bch.nhs.uk/news/article/14645-birmingham-children%E2%80%99s-hospital-proud-be-rated-%E2%80%98outstanding%E2%80%99-care-quality-commissi
http://www.bbc.co.uk/news/health-39009683
http://www.bch.nhs.uk/news/article/14647-bereaved-parents-come-together-open-new-and-unique-%C2%A31-million-centre-birmingham-c