Who are charity sweets?
Chairty sweets was launched in 2001. Bob Strong invested £60,000 in Sweet Causes Limited which includes charity sweets. After securing a partnership agreement with Mencap in 2002 Charity Sweets has gone from strength to strength. We have agreed partnerships with 3 more charities and hit the milestone of donating over £1.5 million to charity.  In 2013 we started our ever-growing partnership with Teenage Cancer Trust. 2015 was when Charity Sweets secured their third partnership deal with The Children's Air Ambulance. The most recent charity partnership came in 2019 when Charity Sweets teamed up with Breast Cancer Now.
These four charities hold a special place in our hearts, every day we strive to help provide support and improve people's lives. You can do your bit for Teenage Cancer Trust, Mencap, The Children's Air Ambulance or Breast Cancer Now buy subscribing to our sweet boxes today. Over the course of the year, you will have donated £24 to one of the four charities and helped benefit someone else's life whilst having a monthly supply of sweets! What could be better?
How our sweet box subscription works?
The first thing you need to decide is what charity you would like to donate to out of Mencap, Teenage Cancer Trust, The Children's Air Ambulance, or Breast Cancer Now. You do this online click here for Charity Sweets Monthly Subscription.  There is no limit to the number of boxes you can subscribe to each month. The rest is down to us! We will give £2 to your designated charity every month and send you a different box of sweets every month!
Product information
Box size: Each subscription box contains between 850g and 1kg of sweets. The box may vary depending on the sweet types which change each month. The minimum weight of the contents of each per subscription box is 850g.
What else do charity sweets offer?
We also have a range of sweet jars, business tuck shop range and corporate & personal gifts. You can purchase Retro mix jar, fizzy mix jar, or a chocolate mix jar. The jar contains 1500g of sweets or chocolates depending on which jar you purchase. The corporate & personal gifts are perfect for professional or personal events. Whether you are a school, restaurant, office building or celebrating a wedding or baby shower we can personalise confectionary. For more information get in contact with the team today.
Business tuck shop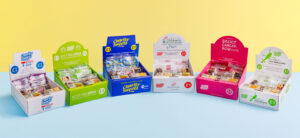 Thousands of companies are already enjoying our sweets and snacks. We deliver our tuck shop boxes free of charge for your staff and customers. They are perfect for staff rooms, tea points, reception areas and trade counters. Plus, you'll be supporting a great cause. Sweet causes began selling to 50 businesses in 2001, and now has over 45,000 customers across the UK. Each company has a box of at least 30 items. Customers and staff can simply add £1 to the honesty box to take one item. Although we appreciate that sometimes staff do not have cash on them, we do ask for any shortfall to be made up when the box is refilled. Despite the fact that you are not obligated to do this, this will have an impact on the amount of money the charity is able to receive. To sign up to our business tuck shop please complete the form online and a member of the team will get in touch.
How to get in contact
If you require any more information or have a general enquiry, please get in contact with us today! Our passionate dedicated team are here to help! You can contact us via
Telephone: 0845 120 1531 | Email: info@charitysweets.co.uk | Online contact form
You can also write to us at
Sweet Causes Limited
Unit 2 Aldridge Fields Business Park,
Middlemore Lane West,
Aldridge
West Midlands
WS9 8AE